Dog Breeders > Czech Republic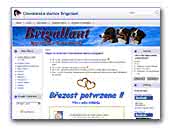 Brigallant
Kennel Brigallant... Dealing with Appenzell sennenhud dog breeding. We have one female Briga Dakam in station. Appenzel is very active breed. We tried many dog sports with Briga like Agillity, Flyball, Corsing, Courses in basic abedience and so on. So she likes swimming, loves throwing the ball and friesbee. For more informations, visit our website.
Appenzell Cattle Dog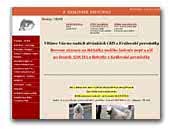 z Královské pevnůstky
Kennel of miniature Schnauzer, standard schnauzer and big poodle .
Miniature Schnauzer
Standard Schnauzer
Poodle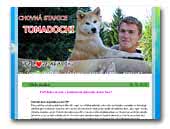 Tomadochi Akita Inu
Naším chovatelským cílem je odchovávat zdravá štěňátka s výborným exteriérem i rodokmenem a především s vyrovnanou povahou, aby byli skvělými společníky, a proto klademe velký důraz na správnou socializaci. Také chceme, aby naše odchovy byly typickými představitely plemene.

Velmi zodpovědně proto vybíráme rodiče a snažíme se absolvovat povinná i nepovinná zdravotní vyšetření.Naše mezinárodně chráněná chovatelská stanice Tomadochi (přítel) byla zaregistrována pod FCI v roce 2010.
Akita Inu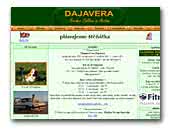 Dajavera - kennel of Border collies
Border collie kennel, stud dogs, dogs activities, sport, shows, herding.
Border Collie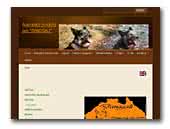 Danggali
We are a small kennel breeding only 1 litter per year. All our pups are raised inside and are handled by many people and children since birth.  We strive to breed good quality, healthy, strong and sound pups for work, show or pet.  Demand for our pups is far greater than supply, however quality is more important to us than quantity.

We are not a "for profit breeder". Puppies are produced to provide us with new contenders and only  after many hours of research into pedigrees & bloodlines, (searching for the "right" match as opposed to the number of champions, color or location), health tests (HD, ED, PRA-prcd) and screening on breeding individuals, and numerous other criteria in an attempt to make each litter an improvement on the last.

Our breeding aim is to breed high quality ACDs with conformation to ACD standard, socialized puppies, suitable to live in a family.

Puppies are on a strict worming and vaccination schedule.  They are socialized with our dogs and family.  We believe that the more social a puppy is  -  the better dog he/she will make.

Puppies are BAER tested (brain-stem auditory evoked response), and microchipped.
Australian Cattle Dog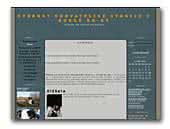 kennel z Koru Bo-Ry
Kennel of border collies emphasize on health, sufficient movement and mental peace of our dogs.
Border Collie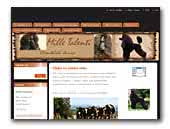 Mille Talenti
Medium black Poodle, Prcd-PRA, Patella luxation, Ophtalmology eye exam (PRA), schows, puppies.
Poodle

FACE OF LUCIFER
American Staffordshire Terrier and  Staffordshire bullterrier FCI Kennel.

My name is Lucie Kwasnicová and I would like to welcome all of you who love American staffordshire terrier and Staffordshire bullterrier on our website. I hope you will spend here a nice time and you will gladly come back again.
American Staffordshire Terrier
Staffordshire Bull Terrier
« Prev 1 2 3 4 5 6 7 8 9 10 11 12 13 14 15 16 17 18 19 20 21 22 23 24 25 26 27 28 29 30 31 32 33 34 35 36 37 38 39 40 41 42 43 44 45 46 47 48 49 50 51 52 53 54 55 56 57 58 59 60 61 62 63 64 65 66 67 68 69 70 71 72 73 74 75 76 77 78 79 80 81 82 83 84 85 Next »