Dog Breeders > Last Added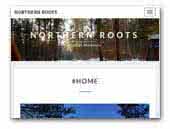 Northern Roots
Hej and welcome to our website, where you can find lots of informations about our Alaskan Malamutes and the daily life with the pack. Maybe you know us from instagram (malamutenorthernroots), from shows or from the diffrent types of sport, we do. Visit our site and say #hello.
Alaskan Malamute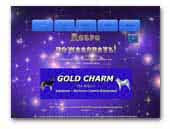 Gold Charm
Our kennel is engaged in breeding of breeds Samoyed.

All our dogs live in ecologically clean conditions of a country house and are full members of our family. All of them have an excellent nervous system, get on well with each other, and also are friends with children.

All our dogs are absolutely healthy. We put all our efforts and do everything possible for the welfare of our pets.
Samoyed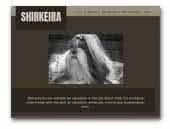 Shirkeira
We specialise in the old Dutch Shih Tzu breeding lines mixed with the best of Canadian, American, and European lines.
Afghan Hound
Shih Tzu
Sloughi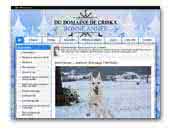 Elevage du Domaine de criska
Mon petit élevage familial se prénomme « Domaine de Criska », il se situe en france dans la Région Grand Est au sein du massif vosgien.

Le 18 janvier 2007, ma première Berger Blanc de Suisse qui se prénomme Criska est arrivée chez moi. Une passion est née ! Je suis diplômé du BAC gestion élevage canin et félin et cela fait 11 ans que j'élève ma race préféré qui et le berger blanc suisse.

Le 1/072017, ma première setter irlandais rouge qui ce prénomme Julia est arrivée chez nous et sa été le vrai cou de foudre. Je suis diplômé du BAC gestion élevage canin et félin, pour vous dire que c'est une passion depuis toute petite.

N'hésiter pas à me contacter et je serais ravie de parler avec vous de ma passion.
White Swiss Shepherd Dog
Irish Red Setter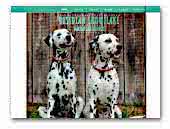 Obsidian Snowflake kennel
Obsidian Snowflake is a small kennel in Croatia, registered in 2014 by FCI and Croatian Kennel Club. We love and promote the beauty, endurance and intelligence of our domestic breed. Through careful selection and line breeding we aim to produce healthy and strong dogs.
Dalmatian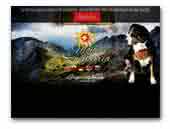 MOJASZWAJCARIA FCI
Witamy w naszej małej domowej hodowli Szwajcarskich Psów Pasterskich.
Entlebuch Cattle Dog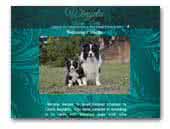 Winyela Border Collies
Our main purpose in breeding is to raise well behaved dogs with nice temperament and especially the instinct for herding for which Border Collies were originally bred for. Nevertheless, the emphasis is also placed on health & appearance, so we strictly choose our breeding pairs. Our puppies are a family to us, therefore we are very careful about finding for them forever homes and we require to keep in touch with new owners.

One of our motto's is "quality over quantity". That is the reason why we have litters only ocassionally and because of that our puppies are available infrequently. But once you have a puppy from our kennel we will be more than happy to help and advise you on anything and you become a member of our doggie family.
Border Collie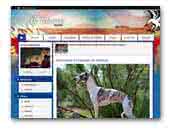 Tetiaroa Kennel
Whippets and Tibetan Mastiffs
Kennel Tetiaroa is located in France, French Riviera. Puppies, Stud males.
Whippet
Tibetan Mastiff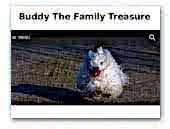 Buddy The Family Treasure
Coton de Tulear
Home page our Coton de Tulear Buddy The Family Treasure

This page is about a dog, which name is Buddy and he is Coton the Tulear. You can imagine as a floating cloud with a smile. Because he is very friendly, cheerful and kind dog. It makes us the happy and when we are sad or when we are in bad mood, we just look at him and we begins to laugh immediately.

You can find here experiences and photos from trips. Buddy enjoys photography, so you can see a few. Then Buddy is also a father, so you can find here his females and how many children, he have. He is very proud father as one of his sons is Czech junior champion.

Buddy is very nice dog, he won all the awards and he is also healthy dog. We will glad, when Buddy's nature, cheerfulness and quality transmit further. So if you like Buddy, contact us.

If you're from far away, we can provide frozen sperm. It's not problem. So feel free and look at our website Buddy.
Coton de Tuléar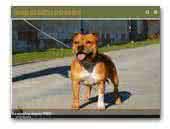 Staffy's du Grand Nord
Lucie et Jérôme... et leurs chiens!

C'est ainsi que tout le monde nous connait et c'est ainsi que nous sommes. Nous habitons en Picardie dans le Canton de Breteuil (60120). Nous sommes des parents comblés et propriétaires de chiens. Lucie a toujours eu des chiens, depuis son plus jeune âge, elle a toujours été là pour les chiens qu'elle croisait.

Nous avons commencé l'élevage en 2008 avec des périodes différentes, mais toujours avec une seule préoccupation : Est ce que les chiens ne manquent de rien? Cela restera notre préoccupation majeure toute notre vie. Lucie a été bénévole au sein de Staffie Rescue également. Nos chiens vivent tranquilles, en maison, et les installations extérieures comprennent une courette de pelouse. Le parc à chiots lui va être pâvé pour plus de sécurité.

Vous pouvez prendre RDV pour nous rendre visite, bien évidément! Fuyez tout élevage qui ne vous reçoit pas! Lucie est capacitaire (DDPP), chef d'exploitation (Chambre des Métiers), et affiliée (MSA) - notre élevage est professionnel mais professionnel ne rime pas avec quantité. Ici, la qualité prime, la santé prime, le contact humain prime et la confiance prime - ET NOS CHIENS PRIMENT.

Nous n'élevons qu'une seule race, celle qui nous fait vibrer : le Staffordshire bull Terrier !
Staffordshire Bull Terrier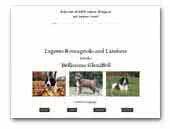 Bellissima GlemBell
Bellissima GlemBell kennel specialize in Lagotto Romagnolo and Landseer (European type) breeding for health and temperament. Our main goal is to achieve happy, healthy, beautiful and good character dogs which will bring joy to their owners life.

We not only show our dogs but makes different exam, activies, dog school, swimming and many other thing to give our dogs the best we can. All of our dogs are health tested for breed and non-breed health diseases to make only healthy puppies. For more info contact us.
Landseer
Romagna Water Dog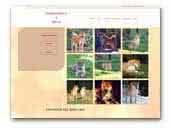 Ayene Kampala
Criamos en familia a nuestros Rhodesian Ridgeback y Shiba inu.
Rhodesian Ridgeback
Shiba Inu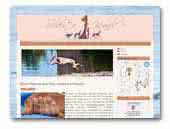 Silvento
Italian Greyhound & Cirneco dell'Etna
The first imported from Sicily (Italy) to Ukraine Cirneco dell'Etna appeared in our kennel. As wel las 3 years later we had the first for Ukraine puppies of Cirneco dell'Etna. We would be happy to see you on our web to share our amazing photo of cirneci.
Italian Greyhound
Cirneco dell'Etna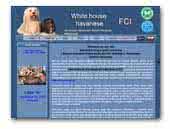 White House Havanese
Devoted to dog breeds Havanese.
Havanese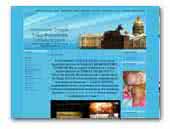 Temple Veles
Welcome to visit our website. On our website you will find information about the breed including the breed standard and characteristics. You can also read about our dogs, litters and puppies.
Pharaoh Hound
1 2 3 4 5 6 7 8 9 10 11 12 13 14 15 Next »